A USB Drive is a transferable storage medium that makes daily life so simple. USB drives are moveable, light, and small in size. But, few unavoidable incidents make a USB drive unreadable, and then, you cannot access the unreachable data. In such situations, formatting a USB drive is the only method left to make it readable again. Doing this fixes the inaccessibility problem and makes the pen drive readable but deletes all data from it. The question that always pops up in everyone's mind is, "how to recover permanently deleted emails from USB drives"?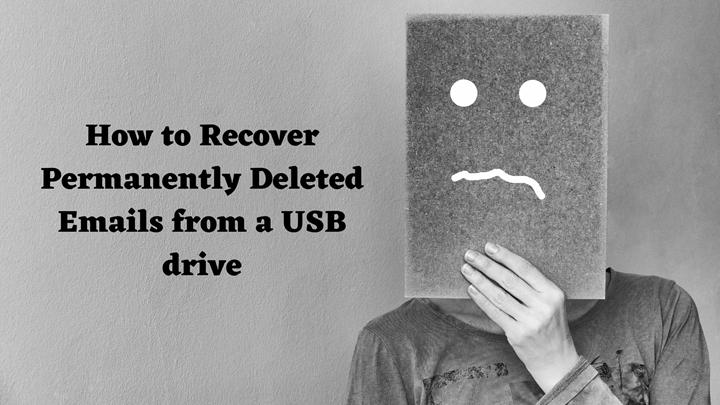 Now, users might be thinking that it is likely to recover permanently deleted emails from USB drive. Well, users can restore deleted files from USB flash drives no matter what is the reason for data loss. This is so because lost data files are still located anywhere on the USB drive but we cannot access them. The freed space becomes marked as reusable and it tells the system that space can be used to save new data. Hence, if users have not written any new data to it then, users can restore the lost emails as they are still in your USB drive.
Types of Pen Drive Failure
Essentially, the USB Drive failure is characterized into two different types:
Content Failure: The container (USB Drive) is supposed to be physically integrated and recognized by the PC as a physical volume. This type of failure is usually called "Logical Failure" or "Software Failure".
Container Failure: This happens when the USB drive is physically damaged. The USB drive data becomes unreadable and users must need to recover the USB key to make it operable. Otherwise, one just needs to remove the PCB and operate separately.
Techniques to Recover Permanently Deleted Emails from USB Drive
If users have lost your important emails or other data items from the USB flash drive then, below are some simple ways to recover them.
Technique 1. Recover Permanently Deleted Emails from USB Drive using CMD
Click the

Start

button and navigate to

All Programs

. Hit on

Accessories >> Command Prompt

.
Type

chkdsk "drive letter" /f

and click the

Enter

button. It will be the first line of the code that users are going to use in the USB drive recovery. Now, make sure that everything is isolated with a single space. For instance,

C:\Users\TheVirtualWriter>chkdsk E: /f

Press the

Enter

button and type

Y

for preceding commands until the command line gets started. You may get a lot of commands on the cmd window as these commands are displaying the procedure to recover permanently deleted emails from USB drives. Type

Y

for those command questions for proceeding further.
Type the pen drive letter and press

Enter

. After this, the command line will start again after scanning the pen drive and convert the files inside.
Now, execute the [E:>attrib -h -r -s /s /d .] command and it will recover everything from the pen drive including emails.
After entering the code, a new folder will be created automatically in your USB flash drive and it will contain all the recovered emails and other data items.
Limitations of CMD
Command Prompt is a proficient way to recover permanently deleted emails from USB drive however, it has its downsides too. The commands need to be entered accurately because one spelling mistake can worsen the situation. Also, the Command Line Interface (CLI) can be confusing for few users and the command does not always work to recover deleted emails from pen drive.
Technique 2. Recover Deleted Emails from Pen Drive Using Automatic Tool
USB drive recovery tool is a standalone tool to recover deleted, corrupted, and formatted emails and other data items from USB drives. This assists to restore emails from all brands USB drives of any size. The application can be installed and used in Windows 10, Windows 8, and all below versions of Windows OS. It executes all data recovery from USB drive in some easy steps.
Follow the instructions below to recover permanently deleted emails from USB drive:
Download and launch SysTools Pen Drive Recovery Software. It will show all the connected USB drives and memory cards.

Choose the device from which users want to restore data and the software will list all its basic information in the right panel of the tool.

Now, users will get two different scan options, one is Scan to restore deleted and corrupted emails and the other is Formatted Scan to retrieve formatted data. Hit on Scan.

The utility will start scanning the USB drive after this and show the current progress report in percentage.
After this, the restored data is listed in the left panel and the folders having data are highland in bold. All the restored shift deleted data items will be highlighted in red color.

If users want to save only a few preferred emails then, check all the desired data items and hit on save. Then, just hit on Save to export all restored data.
Above All
If you are one of those users who are finding the solutions to recover permanently deleted emails from USB drive then this article is just meant for you. Here, we have revealed some simple solutions to recover shift deleted data from pen drive/ USB flash drives. So, if users have damaged your files, users can desire any of the given solutions as per your current desires.