A style guide ensures that your published content is consistent, polished, recognizable, and more enjoyable. When designing a style guide, you should always put your readers or audience first. An accurate and well-written style guide helps you create a recognizable, winning voice and personality with which readers can form a more personal connection.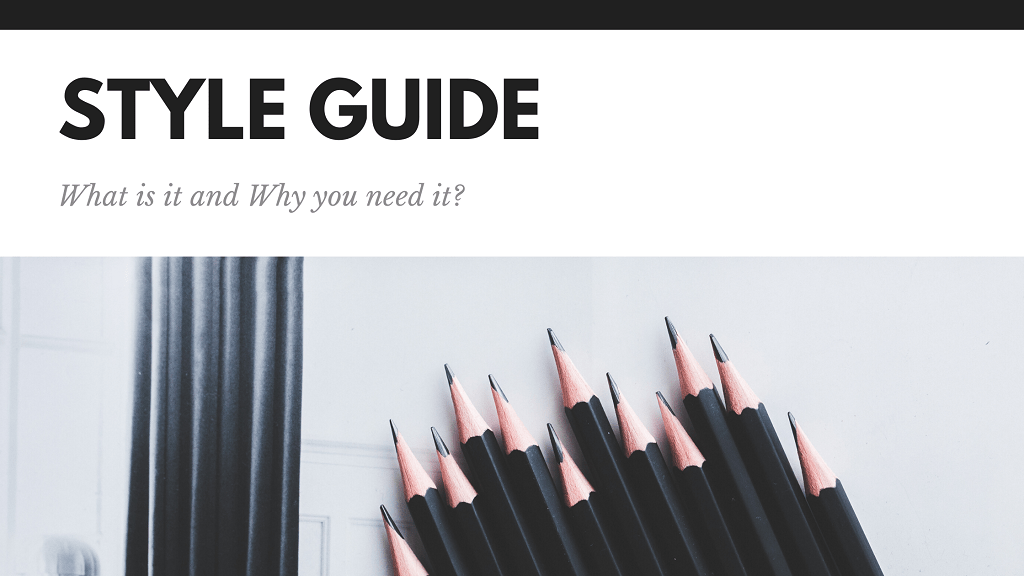 A style guide or manual of style is a collection of rules for the writing, formatting, and layout of documents. One can use these rules for general purposes, or specific to the organization or document type. Sometimes, these rules are called Stylesheet; however, the term stylesheet has a different meaning.
A styleguide ensures consistency in a document and across multiple documents and thus improves communication and creates a brand image. It may have rules for punctuation, capitalization, numbers and date formats, table design, paragraph spacing, fonts, and many other aspects of document design. However, these rules may change from organization to organization.
The style guide may require certain best practices in usage, language and visual compositions, orthography, and typography.
For example:
Academic and Technical Documents: A styleguide may dictate the standard and best practices for authorship, research ethics, and disclosure.

Compliance documentation: A styleguide may cover standards for technical and regulatory information.

Business Writing: A styleguide can explain the branding instructions.
The Style guides are concentrated in multiple ways, from the general public use to specialized audience use; such as, for learners of several educational systems, medicine, media, government, business in general, and specific industries.
Sometimes, companies create their in-house style manual that may deviate from the industry standards and style.
All good brands have a great style guide. Creating a simple booklet that catalogs the specific colors, type, logos, imagery, patterns, taglines, etc. of a brand makes sure the brand machine runs smoothly.
-Source: Canva
-Also see: PhotoADKing – Logo Maker
The basic purpose of a manual of style is to help you build your content. You can communicate the same message in multiple ways making our language more flexible. However, a style manual limits the difference and helps you concentrate on effectively transferring the message. When multiple people are working on a project or in an organization, its importance increases as people have different ways of communicating. A manual of style increases consistency throughout your content that helps build brand identity.
It is important even when you start a blog to build your brand name.
Technical writing style guide
Style guides help you write different kinds of content, such as API documents, writing an overview of complicated technical products, or explaining how to use a product. Sometimes, these describe the ways to adapt the content based on your audience.
Most of them focus on the language style, such as tone of voice, style, and grammar. While, some add the structure of the documents, and provide the industry-wide best practices on managing content, versioning, delivery, and publishing strategies.
Even topics, like versioning, publishing, and delivery of content, seems out of the context. However, they help your audience to easily locate the content. It doesn't matter how great your content is if it is not easily accessible.
Many Style guides sufficiently satisfy the main concerns of all technical documentation; sometimes, a more specialized guide is needed.
Here are some good prevailing style guides for technical writing: