If you or your company develop products complex than a pen, you need to write a user guide to help your users understand your products.
A nicely drafted, well-structured, and easy-to-follow user guide or user manual, can satisfy your customers and reduce your after-sale issues.
A user document is not only meant to train new users, but it is a useful knowledge base to help your experienced users troubleshoot any issue. This in return reduces your post-sale queries and reduce the burden on your support staff.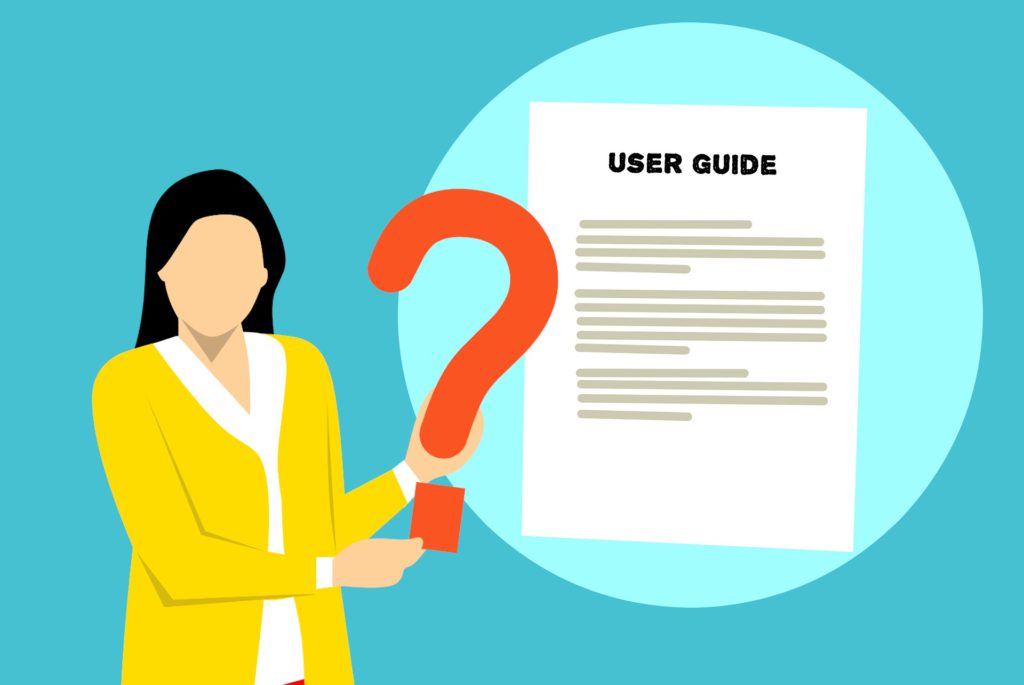 What is a User Guide
As the name suggests, a user guide, which is also known as a user manual, end-user guide, instructions manual, is a document containing step-by-step instructions that help your end-user to use or consume your product or service.
These are some of the documents that go along with your product to help users successfully use your product and fulfill their needs.
For example, a user document that came with your recently purchased software may help what you achieve with that software and how you achieve it. The user manual that came with your new mobile phone will instruct you to switch On/Off your mobile phone or insert a sim card. The remote-controlled toy car user manual may provide instructions on how to insert batteries, how to move forward and backward, and turn on the car.
Why do you need to write a user guide?
We always emphasize our product quality, but what if your customer is unable to consume it. User guide or manual bridges that gap. It ensures that your customer knows all your product features and get the most out of these features.
Increases customer satisfaction
Writing a user guide is simple, isn't that so? That is to say, simply write instructions on how to use your stuff and you're all set!
It's not exactly that straightforward.
A user guide is more than only "how-to" material. It's essential for the client experience. What's more, that implies it's additionally promoting material.
As a customer and a technical writer, I've encountered both well-written and poorly-structured user guides. I believe most of us have seen the same. Some product documents give all the information in an easy-to-understand way. While others, we don't even if there is any document exist; for every minor issue, we need to contact the support team.
An incredible client manual or item direct shows your clients that you give it a second thought if they purchase your item as well as whether they have a genuinely extraordinary encounter when utilizing it.
Reduces customer support team burden
As a user, think about the time when you last faced an issue with any of the products. What was the first thing you did to resolve the issue? I bet, you must have searched the internet or the product document to find the solution. When you couldn't find the solution, you must have contacted the support team.
If your product isn't delivering the expected results or the customer is facing an issue, they will contact your support team. This increases the burden on the customer support team and if there is a delay in the response increases customer frustration level.
If you have well-written user documentation, which is easily accessible, it can reduce the time to resolve some of the customer issues. Your product user guide can have troubleshooting steps to common problems or can have step-by-step instructions for common user scenarios.
Serves as a source of truth document
Your user documentation not only helps the end-user to understand the product, but it also helps your support team to find the answers. If there is any conflict between the information available anywhere else, your user guide can be treated as the source of truth.
Conclusion
A nicely-written, well structured, and easy-to-follow user guide provides a better understanding of the product, reduces customer support team calls, and increases customer satisfaction. Thus every penny spent on creating user guides gives you a higher return on investment (ROI).
Suggestion: How Computer Repairs Brisbane can help.