Does it feel like you are doing good, working very hard, but in the end, you are not achieving anything? As in all your efforts went in vain. Are you searching for help for Writing a SMART Goal Example?
When you look at your last five or ten years, you may have acquired some skills or there are some achievements to reflect on your CV. Or When you look at the five years down the line, you may be struggling to find a way to achieve your objectives.
Most of the professionals are spending their lives switching from one job to another, trying to achieve more. However, when they look at their accomplishments, they found very little over there.
Writing SMART goals can help you provide clear ideas, focused efforts, effective time usage, and productive utilization of the resources, thus, increasing your probability to achieve your objective.
This post is to understand what SMART goals are, the abbreviation for SMART, how to write smart goals, and help you Writing a SMART Goal Example.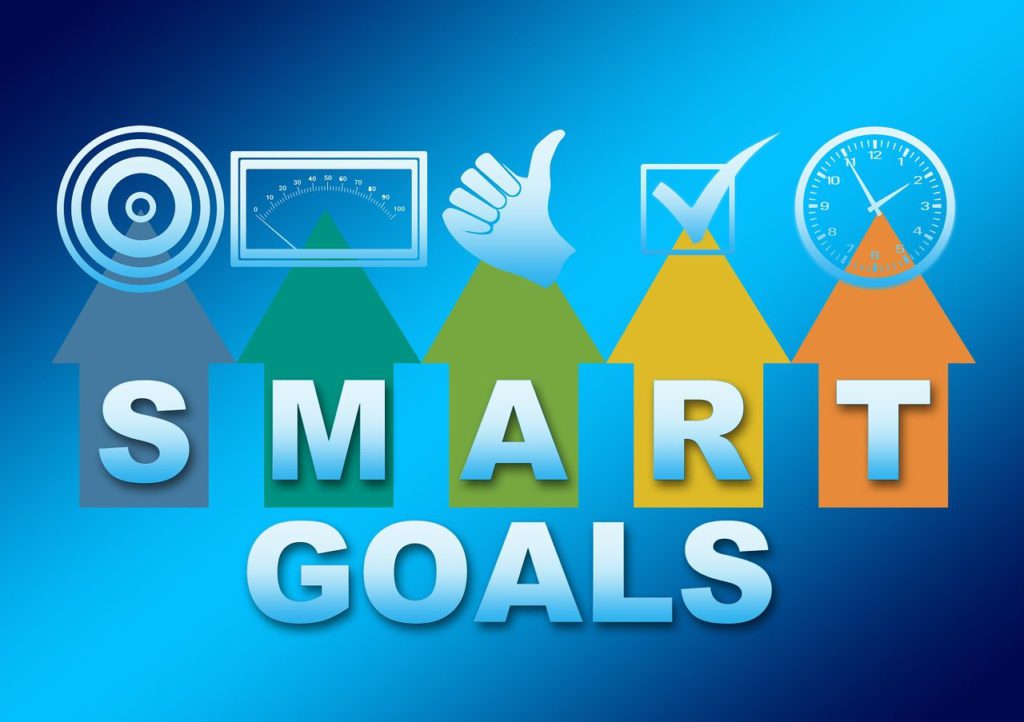 What is a SMART Goal?
Goal setting is of utmost importance to build a career of your choice. You can judge the proper utilization of your time and resources by setting the right goals and drafting a road-map to achieve milestones. You might be eyeing a promotion, a job, or any other milestone in your life. However, it is almost impossible to get what you want without goals or targets.
When you are writing your goals, you should mention all the steps required to achieve the goal and hit the success.
One way to achieve this is to write SMART goals. SMART is an acronym used to guide people when setting their goals. If you are creating personal or professional goals, the SMART framework can help you create well-planned, clear, and traceable goals. The framework can lay a strong foundation and can be your first step taken towards achieving success.
What does S stand for in SMART?
The letter S stands for Specific in the acronym SMART. When writing your goals, be specific about the target you wish to achieve. You can use the Five W technique to write a specific and clear goal. When writing your goal, ask yourself these five questions.
Who: We all work in a team and may need help or guidance from others to achieve our goals. You always think about who all needs to be involved or whose help you need to achieve your target. For example, you may need a trainer or mentor to learn new skills; or if you are managing or leading a sales team, you may need your subordinates' support to achieve your sales target.
What: We sometimes write vague goals, such as I want to be a Leader. Yes, that's true you want to be a leader, but ask yourself what you want. You may want to acquire leadership skills, effective delegation skills, or effective communication skills. It would be great if you could write a detailed description of your goal.
Why: In a professional environment, the answer to this question is mostly to career progression or company advancement. However, it is important to know the reasons to prioritize your goals and effective utilization of resources.
Where: Well, sometimes times this may seem irrelevant, but for some goals, the location is important. For example, you may aim for a new job, but if you could add a location to it the goal makes more sense.
Which: Look for the obstacles or any other requirements that are related to your goals. For example, as we said earlier, if your goal is to get a new job, you may need to learn certain skills. So, you may modify your goal to, "learn some skill to get a new job in ABC city for a better pay package."
What does M stand for in SMART?
The letter M stands for Measurable in the acronym SMART. The aim of writing SMART goals is not just to write and forget; we need to put effort to achieve them. When writing goals, you need to specify how you are going to measure the progress of your goals. It is a good practice if you could specify small milestones, that will help you track progress and boost your morale to achieve the final goal. For example, for the above-mentioned goal to get a new job, you may have small milestones such as:
Learn A skill, apply for all the open job vacancies in ABC city, go for interviews, get feedback, and implement feedback.
What does A stand for in SMART?
The letter A stands for Achievable or Attainable in the acronym SMART. We human beings are greedy and always want more. To fulfill our greed, we sometimes create over-ambitious goals and fail to achieve them. Measure your current skills and abilities, and then write goals. Yes, your goals should stretch your skills and increase your horizon but remain possible to achieve.
For example, for a trainee in technical writing targeting the next CEO of the organization is a nice thought. However, it may be impossible to achieve in the next 2-3 years, unless you possess exceptional skills. You can make this your main goal and consider every step of your corporate ladder as milestones.
What does R stand for in SMART?
The word R stands for Relevant or Realistic in the acronym SMART. This step is questioning the relevance of the goal you are creating. The goal should be relevant to you, help you achieve other goals, and fill in the bigger picture or must be part of your bigger goals. The goal should be realistic as it should be achievable with currently available resources. You may need a lot of help from others and in the current situation, those people may not be available. If you are aware of these kinds of situations, consider keeping the goal aside and focus on other realistic goals.
For example, considering the same example of a trainee targeting to be the next CEO. Will it be good to create a goal to achieve the leadership skills or create a goal to learn skills relevant to the current position and climb the next step of the ladder? I believe the answer will be the later one.
What does T stand for in SMART?
The letter T stands for Time-bound in the acronym SMART. If a goal does not have any date assigned to it then it is never going to be achieved. When there is no target date, we cannot assess the priority of the task. This step is to give a deadline for your goals. I would suggest not only give a deadline to your goals but also give it to your milestones.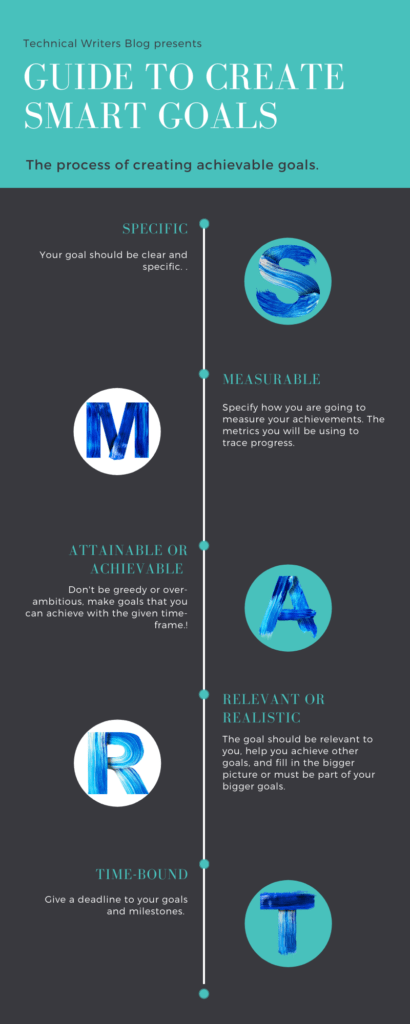 Writing a SMART Goal Example
SMART goal example for an aspiring teacher
Vague goal: I want to become a teacher after completing my graduation. If you ask any graduate student, "What do you want to do in the future?" or "What are your future aspiration?" you will hear something like the above example. We can write the same goal by using the SMART goal framework.
Specific: A graduate student does not qualify for a university professor. The goal to become a high school teacher should be specific to the person. If you could specify the subject, you want to teach would make your goal more specific.
Measurable: You can measure success by creating milestones as finishing the graduation exam with a good score, the number of applications you have applied for, the number of interviews attended, and job offers you receive.
Achievable: Apart from the graduation, you should qualify other minimum requirements for the job you are aspiring to.
Relevant: You should be studying and graduating with the same subject you want to teach, such as math. In other words, after completing graduation, you should possess the required skills to qualify for the job.
Time-based: You should set a deadline by when you want to become a teacher or get a job, such as three months after completing your graduation.
SMART Goal Example: I will become a math's teacher within three months of completing my graduation. To achieve this, I will first complete my graduation with a good score, apply for all the open positions, and crack the interview to get a job.
Why do you need to write SMART goals?
When you create goals using the SMART framework, the chances to effectively and timely achieve your goals are high as it gives you the following things:
Set the boundaries for your goals by making them realistic and achievable goals.
Provide you all the information to prioritize your goals for effective utilization of time and other resources.
Give you the metric to measure progress and cherish the milestones achieved.
Conclusion
Every goal you create are not equal, some are vaguely written or impossible to achieve. If you spend your time and resources chasing them, you will find yourself looking for a needle in a haystack. If you know how to write SMART goals, you will have all the details you need to achieve the goal. Also, you will know all the resources required to achieve the goal and a deadline for you to prioritize your efforts.
What are you waiting for? Let's start Writing a SMART Goal Example!