Microsoft™ Outlook™ manages your contacts for you like a pro. A VCF file also stores your contacts within defined fields. You can export Outlook contacts to a single VCF file and that can help you transfer your contact list across different applications.
"I work for a Multi-National Company, which has several working departments, as a part of my job, I am required to sort all of their contact information. Since we have hundreds of employees in a single sect of the company, I am planning to save the contact information from one department in a single VCF file. This would prevent us from further confusion and chaos. How can I make this happen?"
Are you in the same dilemma? If you too have uncountable Outlook contacts with you that you would like to save in a single resultant file, then keep on reading this article.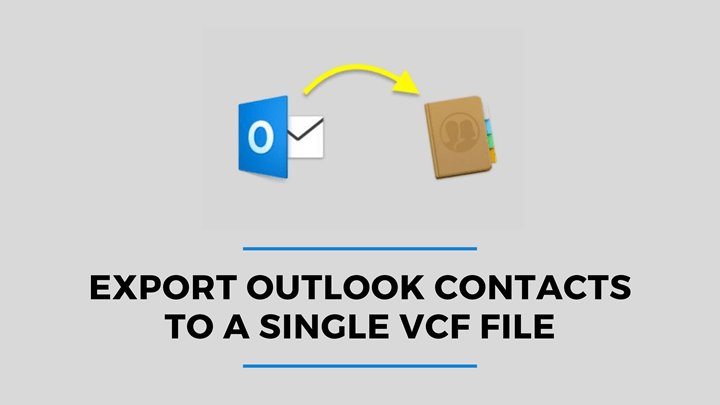 How to Export Outlook Contacts to Single VCF File?
MS Outlook does provide the flexibility to save its contact list in VCF format but it is not yet advanced enough to merge them all. In other words, if you are exporting the contacts from your Outlook account, you are bound to export one contact at a time and save it as a VCF file. In case you have thousands of them, it is highly impractical and next to impossible to export them without wasting your precious time. In the coming sections, we will provide you a manual as well as an alternate solution to help you out. First, let us discuss the most professional way.
Expert Way to Export Outlook Contacts to Single VCF File
To overcome all the setbacks caused by the manual method, then PCVITA Outlook to vCard is the ultimate solution. It helps you to convert Outlook to vCard in no time. It provides many noteworthy facilities as given below:
Features of the Software
Capable of exporting multiple contacts in a single attempt.
Option to merge contacts in a single file or create an individual file for each contact.
Provides the facility to export corrupted, orphaned, and password-protected contacts.
The software first scans the contacts for any damage and then loads them in the tool.
It maintains the data integrity and exports all fields & attributes of the contacts.
Provides an option to auto-detect & load the file from its location.
Can export the contacts in all possible vCard versions i.e., 2.1, 3.0, 4.0.
The resultant VCF files can be used with almost all possible platforms.
Automatically maps the custom fields of Outlook contacts with the VCF fields.
Supports all MS Outlook versions such as 2019, 2016, 2013, 2010, and others.
Steps to Export Outlook Contacts to Single VCF File
First,

download

,

install

, and run the PCVITA Outlook to vCard converter software. Users will now have to add Outlook PST contact file(s) or folder.

It provides an option to auto-detect the location of the PST contacts & loads them automatically. After this, the application will quickly scan them for corruption.

Now, users can preview the contacts along with their attributes and fields. Next, select all contacts and click on

Export

to proceed further. If you want to export only a few desired contacts, then click on

Export Selected

.

You will now be taken to the export window. Click on

vCard

as your option. Then click on

Advanced Settings

.
Here, you have to select the version you want to export your contacts in. You can select any one out of 2.1, 3.0, 4.0, and then check the box that says

Merge contacts into single vCard

and save the settings.

Now, provide a location to save the file and hit the

Export

button. The process to export Outlook contacts to a single VCF file will begin.

Voila! The process is complete. You can now easily import the resultant file in any platform or device that accepts VCF. If you want to do this manually without using the software, follow the below-given guidelines.
Manual Way to Export Outlook Contacts to Single VCF File
This method is much longer than the previous method. You will have to use more than one application for this procedure.
Part1# Export Outlook Contacts in the CSV Format
Launch Outlook and click on the

File

option.
Tap on

Open

&

Export

& then select

Import/Export

.
Click on

Export to a File

and hit on the

Next

button.
Select

Comma Separated Values option > Next

.
Choose the folder to export contacts from.
Finally, save & map the custom fields.
Part2# Import CSV File to Gmail Account
Log in to your Gmail account & click on the Gmail option.
Tap on

Contacts option > More > Import

button.
From the dialogue box, choose

CSV option > Import

.
After the contacts are imported, select them all >

Export

.
Choose the VCF option & save them to combine the contacts.
Done! The manual process ends here but you can see how lengthy this is. Additionally, you will have to map all custom fields which is extremely time-consuming.
Conclusion
In this blog, we have discussed the two possible ways that can help you Export Outlook Contacts to Single VCF File. As per the user's choice, they can go for the manual or the automated solution. The manual way is quite lengthy and requires importing and exporting contacts through a couple of applications with several other restrictions. In case you do not have the required resource, you can always go for the recommended tool that provides you a free trial version. It works effortlessly and gives perfect results in no time.