If you are thinking, what is freelance writing?
Honestly, you are not alone, many like you wake up every morning worried about going to work. People bored with their monotonous work or looking for some extra source of income. You heard about how to start freelance writing, but not sure what it requires.
When I started my journey as a freelance writer, there were many questions in my mind; such as, how do I get paid? How much will I earn? What am I going to write? Do I need to acquire a degree?
These are great questions and always pop up in everyone's mind at the start.
I'm here to help you with my experience to navigate this remarkable journey into becoming a freelance writer!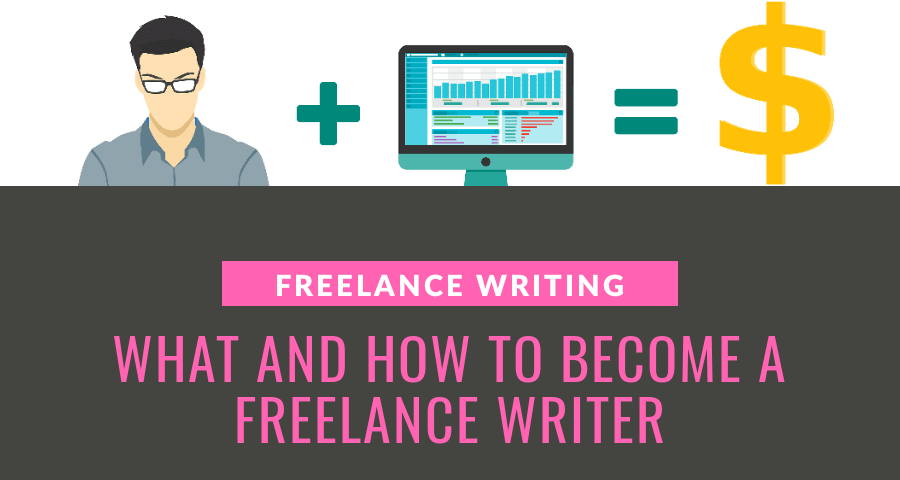 What is Freelance Writing
Freelance simply means self-employed or your own-boss while working with different companies on particular assignments.
Freelance writers write as per their clients' needs, either working from home or in a rented office space. You can have many clients or one very large client with recurring projects or ad hoc projects. Writers can write on general topics or can be a specialist in one area.
Specialists do tend to find more assignments and earn more than generalists.
How does freelancing Work?
Freelance writers are not just writers; as I said earlier they are their boss and as such, they are entrepreneurs and marketing persons who present themselves and their skills to potential clients. A successful freelance writer is usually a blend of a creative writer and an intelligent businessperson. Good writing skills are one part of the job, other parts include selling your skills, and managing projects, timelines, and finances.
The Freelance writers showcase their work to possible clients, acquire projects, work, and deliver the needed deliverable within agreed timelines.
You may want to read about Project management and software quality.
What kind of writing a freelance writer can provide to a client
If you ask me, I am a blogger and I write content for the web, however, the world is big and there are always things you can learn every day.
If you are a good writer with great communication, writing, and language skills, then there are plenty of opportunities for you in the market.
Here is a small list of different types of writing content that can guide you on how to start as a Freelance writer:
Grant Writing
In grant writing, you need to create compelling proposals to help institutions and organizations getting financial aid from the government or non-government organizations. Grant proposals generally have a cover letter, executive summary, need statement, budget, objectives, information about the company, strategies, and evaluation.
Grant proposals mostly follow a specific structure and may require you to create templates. As there is a lot of information that needs to be written around a specific topic, this will require both research and writing skills.
Grant writing is a high-paying job and at the same time satisfies your urge to support non-profit organizations. This is like killing two birds with one stone, you work for a cause and at the same time earning money.
Copywriting
Have you seen those ads on Facebook, Instagram, or Google? Those compelling lines that make you click on the link to know more about the product. Those are the work of some fine copywriters, who use marketing tactics and psychology to create a compelling copy that sells or creates a brand's awareness.
The skills to create a compelling copy that sells the product or service are high in demand to create digital ads, copy for landing pages, and email campaigns.
Case Study Writing
In case study writing, you need to interview customers or users of your product, and then write a case study explaining the benefits of the product using the art of storytelling.
In general, a case study is a short document and typically runs between one page and four pages. Apart from writing, you may require to write interview questions, set up interviews, and interview customers.
Blog posts writing
Blog posts are popular in demand and long-lasting. If you could make good relationships with clients and deliver quality work, then you may get recurring projects.
White Paper Writing
A white paper presents a problem and provides a solution to the problem. White papers require extensive research and need data and evidence to prove that the provided solution is the best.
White papers are normally written for a broader audience. These help companies to establish their authorities in the field or become experts in the subject.
Video Script Writing
In the current Covid-19 pandemic situation, the demand for online videos is sky-rocketed. With schools and colleges closed in most parts of the world, education is delivered through online videos.
Apart from that, with everything going on digital, more companies are using these videos for marketing purposes, including video blogs (Vlogs), tutorials, interviews, product demos, presentations, testimonials, and advertisements.
Before capturing these videos, especially those intended for promoting a brand or creating awareness on a topic, the script is required. A script is the foundation of a video.
As a video scriptwriter, you can work with companies, bloggers, online course creators, or anyone that uses video marketing.
Press Release Writing
A press release informs media outlets about upcoming events, achievements, and products. The press release is to convince the media that your event is of their audience interests.
Organizes where there are no in-house Public relations (PR) team and those who could not afford those high priced PR agencies, hire freelance writers.
A press release like grant writing has a strict format. If you have created one and understand how to write it, you can easily use the same format and save time.
Technical Writing
Technical writing is a valuable skill in all kinds of tech-related fields, including finance, medical, engineering, computer software and hardware, and consumer electronics industry.
A technical writer's work is to break down complex technical terms into readable texts for a specific audience. If you have a background in a technical field and you're good at communicating high-level information in a way that's simple to understand, then technical writing could be a profitable writing niche for you.
Magazine articles writing
Magazine articles writing is more formal writing and may require you to interview a few people. You may find yourself working as a journalist. However, if you are good at interviewing people and have strong connections, then this one is for you. All you need to do is to get the latest news and write about it. This can be clubbed with blog posts writing, as this is the digital world.
How do freelance writers get paid?
Every client has its process and payment type. Some clients want the writer to send an invoice when the work is done, some pay half up front and the remainder when the work is handed in, while some set the project milestone and make the payment as the project progresses.
Some clients prefer the convenience of Paypal to make payments, some sticks to the traditional system of sending checks, others prefer Paypal alternatives to make payments.
Whatever the payment method is agreed, you have to be good at budgeting and money management, as it is your responsibility to get timely payment. Sometime, you may have to send reminders to the client.