Every job profile is known for their skills and tools. If I ask you to imagine a plumber, the first picture that would come into your mind, must be of a person holding a wrench. When I think of a technical writer, the picture of technical writing tools that comes into my mind is of a person holding a pen.
Yes, a pen does the basic job of writing, but in the modern world, it is not enough.
In the modern world, technical writers need to create instructions that are rich in graphics and easily accessible on different devices.
As a technical writer, apart from interacting with people, which needs good communication skills, you also need to perform so many tasks to complete your documentation jobs. In performing these tasks, Technical Writing Tools hold your hand.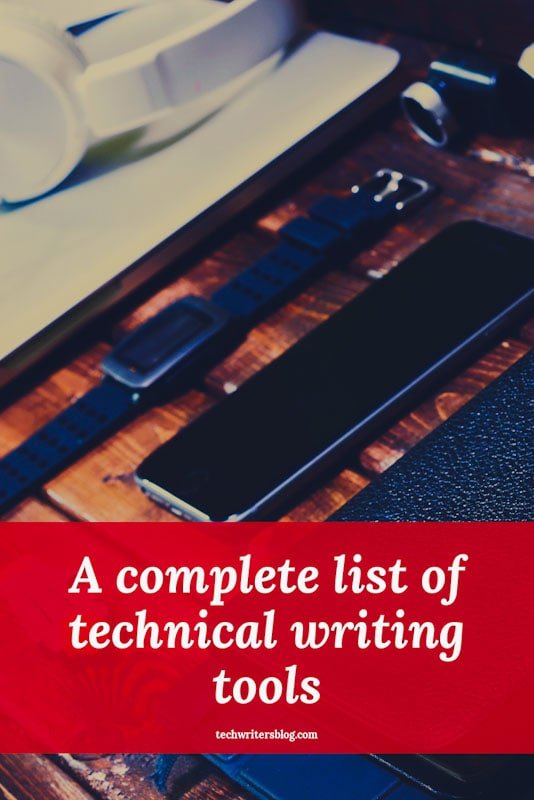 I am listing a few tools to help aspirant technical writers and experienced writers who want to increase their horizons.
Based on the purpose, I am categorizing Technical Writing Tools into the following broad categories:
Authoring and Publishing tools
The basic job of a technical writer is to write instructions. Using one of the following listed software, you can write on a computer.
It is a software that is packed with every window installation. It is a simple text editor and does not constitute any style. If you want to focus only on content, then you should use Notepad.
It is an advanced version of Notepad. It provides additional features, such as Spell Check, Find, and Replace All. It is also very useful when you are editing any Software language files.
More than half of the writers use the Microsoft Word for their writing projects. It supports track changes for review, creating your styles, and spelling and grammar check. You can produce output in multiple printable formats, such as PDF, XPS, web page, Rich Text Format (RTF), plain text, and many more. However, the biggest limitation of Microsoft Word is that it only produces a printable document.
Are you thinking to create a large document that can span across 300 plus pages? A document that consists of several chapters. Adobe FrameMaker is a good bet for this kind of authoring. It supports two kinds of authoring, viz., Structured and Unstructured. It also provides the ability to re-use the content.
XMetaL™ Author Enterprise
It is a Darwin Information Typing Architecture (DITA) based XML authoring tool. It is a structured authoring tool and supports content re-usability. You can also connect it to a content management system (CMS) for collaborations.
It is an online help and knowledgebase creation tool. You can import your Adobe FrameMaker files in it and link it to generate different formats of the outputs, or you can create your content directly in RoboHelp. You can easily generate an HTML5 responsive output and design it using CSS3.
As the name suggests, Oxygen XML Author is an XML authoring tool. that gives an easy-to-use interface. With Oxygen, you have got access to XML-based standard frameworks, preset transformation scenarios, and unmatched extensibility and connectivity.
It has features such as; Single-Source Publishing that enables you to produce outputs in PDF, ePUB, HTML, and plenty of other formats, using the same source; Structured Editing, XML Publishing Frameworks that includes support for DITA, DocBook, XHML, and TEI frameworks; Extensibility support and enhance the built-in XML publishing frameworks or perhaps create your frameworks; and Collaboration using tracking tools, subversion repository client, and compare and merge solutions.
Screen capturing software
Technical writers use screenshots to support their writing and make it easy to understand. Here are a few tools that help you to capture the screen:
Shipped with Microsoft Windows, it is a powerful and easy-to-use tool. It serves well the very basic feature it is designed for, i.e., capture screens.
It is a product of TechSmith and is a powerful tool, not only to capture but also to edit the images. Apart from capturing the screens, you can also record screen videos and capture scrolling windows.
It is a screen capturing and editing tool from the madcap software team.
I believe, at least once in a lifetime you would want to sneak in the past and correct it. You might want to undo some of your decision. Well! This is not yet possible in real life. However, you can do it in the computer world.
If you want to look at file versions that are saved previously, one of these tools can surely help you:
Apache™ Subversion™ (SVN)
If you are looking for a career in Technical writing, then I hope this post will help you to start.
If you are an experienced technical writer and feel that the Technical Writing Tools you use are not listed above, then mention it in the comment.