If you ask, which book should I read to improve my technical writing skills or which are the best books for technical writers, my answer would be none. You can upgrade your technical writing skills only by practice, but reading technical writing books can serve as a building block for the development.
I have compiled this list of some of the best technical writing books, some general English, and communication books for technical writers to read.
This post contains links that will redirect you to the products page. I get commissions for purchases made through links in this post. As an Amazon Associate, I earn from qualifying purchases.
Best Books for Technical Writers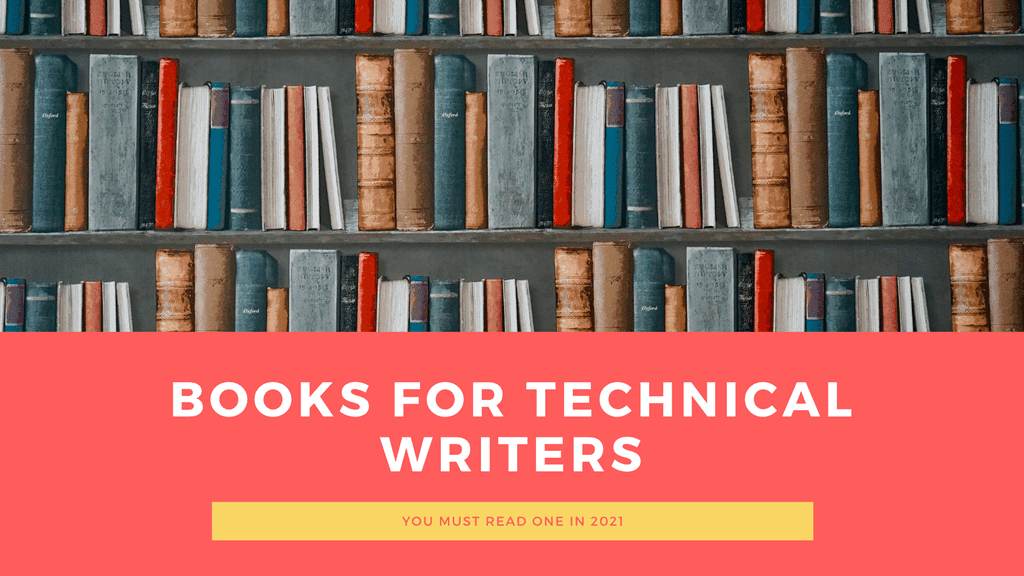 This book explains a five-step process (plan, structure, write, review, and publish) for creating a technical document. The five-step process in this book is generic and can be applied to develop any technical document. The Technical Writing Process book also provides 12 templates to support the practices and execute them effectively.
The book is a good read for experienced technical writers, aspiring technical writers, or anyone who is creating or planning to create technical documents.
Author Kieran Morgan is a veteran of numerous technical writing and process-related projects. This book is a true reflection of his years of experience and can be a good start for writers who wish to streamline their technical writing process and add structure and discipline to their writing.
The Insider's Guide to Technical Writing explains the basics of technical writing. The best part about this book is that it can help aspiring technical writers to get their first job. Every aspirant has one problem when starting their career, recruiters are looking for experience and experience comes with a job.
According to the author, the job of a technical writer or technical communicator is to explain complex products to the users. The book focuses on the basics of technical writing and explains that every Technical writer needs to hone many skills that include knowing technology, writing, and people skills.
The Insider's Guide to Technical Writing can help you become a successful technical writer and build a satisfying career.
The Managing Your Documentation Projects provides its readers a comprehensive guide to help them manage every phase of their publication project. The book contains proven strategies and techniques to produce high-quality, extremely usable documentation and is targeted to technical documentation managers. This is the only book in our list of best books for technical writers, which is meant for technical publication project management. The book will help every technical writer to progress in their career.
Managing Your Documentation Projects is a fruit of Dr. Joann T. Hackos's 15 years of experience. It gives you:
Clear-cut and rational guidelines to manage every phase of the technical documentation project.

Templates, checklists, summaries, and forms helpful to practically apply the techniques and strategies mentioned in the book.

Real-life scenarios and case studies that are taken from the corporate life of Dr. Joann T. Hackos.
Managing Your Documentation Projects is a comprehensive guide for new technical document managers and a daily tool of survival for veterans. It is also an invaluable resource for technical writers, editors, graphic designers, consultants, and anyone who needs to produce high-quality technical documentation on time and within budget.
Make the leap from writing in college to writing in a variety of workplace settings and contexts with Technical Communication. Practical advice and real-world examples let you practice with the kinds of writing processes and products you'll encounter on the job.
Let's face it, a lot of technical documentation reads as if it had been translated into English from Venutian by a native speaker of gibberish. Which is annoying for you and expensive for the manufacturer who pays with alienated customers and soaring technical support costs. That's why good technical writers are in such big demand worldwide. Now, Technical Writing For Dummies arms you with the skills you need to cash in on that demand.
Whether you're contemplating a career as a technical writer, or you just got tapped for a technical writing project, this friendly guide is your ticket to getting your tech writing skills up to snuff. It shows you step-by-step how to:
Research and organize information for your documents

Plan your project in a technical brief

Fine-tune and polish your writing

Work collaboratively with your reviewers

Create great user manuals, awesome abstracts, and more

Write first-rate electronic documentation

Write computer- and Web-based training courses
Discover how to write energized technical documents that have the impact you want on your readers. Wordsmith Sheryl Lindsell-Roberts covers all the bases, including:
All about the red-hot market for technical writing and how to get work as a technical writer

The ABCs of creating a strong technical document, including preparing a production schedule, brainstorming, outlining, drafting, editing, rewriting, testing, presentation, and more

Types of technical documents, including user manuals, abstracts, spec sheets, evaluation forms and questionnaires, executive summaries, and presentations

Writing for the Internet―covers doing research online, creating multimedia documents, developing computer-based training and Web-based training, and writing online help
Combining examples, practical advice, and priceless insider tips on how to write whiz-bang technical documents, Technical Writing For Dummies is an indispensable resource for newcomers to technical writing and pros looking for new ideas to advance their careers.