Are you overwhelmed by looking at Madcap flare features? Do you want to learn madcap flare but not sure where to start?
When I started technical writing with madcap Flare in 2016, I was excited after looking at its features. I wanted to use all the features and create an online help with responsive design, reuse the same content and create a user guide, and import my old files.
Without holding my nerve and I quickly enrolled for their 30 days trial. But, the first week of my trial went in vain. I couldn't find a single resource on the internet which could help me learn the software for free.
Madcap flare provides you in-depth help on their website. But, for a beginner, it is hard to decide where to start. Should I first create a table of contents or a topic?
There are so many trainers or websites, who can help you in learning the application in return for some cost. This includes the madcap software's training service also. When you are preparing a proof of concept for your organization, spending money on training is a bit of a challenge.
If you feel the same and are looking for some free online training, then you have reached the right place. In this series of posts, I am providing free step-by-step tutorials for beginners.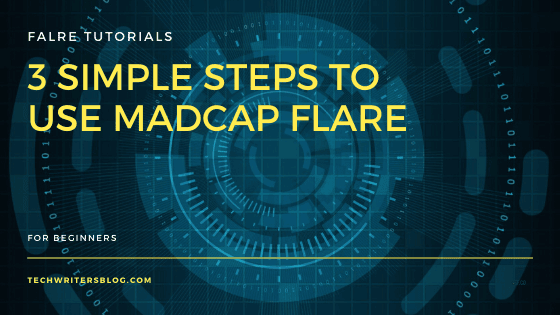 Overview
Flare has many features within it. You might use only a few of them, while others may find some other features useful. I will be describing some features that are important for all writers. When working, you will use these features most of the time.
Flare is an Extensible Hypertext Markup Language (XHTML) authoring tool, which is a cross between Extensible Markup Language (XML) and Hypertext Markup Language (HTML). Even if you do not know anything about XHTML, XML, or HTML, you can build your content in Flare's XML Editor, as you work in any other text editor.
One of the strongest points of flare is its single-sourcing.
It means that you can use the same content again to produce many outputs. Think of producing an online-help and a user manual, using the same content, or creating documents for different types of audiences. You can achieve this in many ways, using various features in Flare, such as:
Topic-Based authoring
Snippets
Variables
Conditions
The central pillar of madcap Flare architecture is the concept of topic-based authoring. Most of the authoring tools keep all your content in a single file; the content, the table of contents, the styles, and so on; but flare keeps all your content in separate files or topics. A topic is a block of information, that is tiny enough to be specific to a single subject.
Before you begin working with madcap flare
Before starting with these tutorials, you need to install the madcap flare software. Always perform an audience analysis and understand what kind of output you want to produce. It would be great if you already have a sample document created for your reference.
I have divided this tutorial into three simple steps. Every person has his/her learning curve. I would recommend you to go through each step of this training at your own pace.
How to use madcap flare
The first step in learning any tool is to understand it. Get familiar with its interface and what are different options available and how to access them. Every tool has its file names and terms. In this step, I will provide you the terms which we will be using with madcap flare. For example, what is a project in the madcap flare software? This post will cover the following topics:
Overview
Creating a new project
Creating a new topic
Opening a topic
Saving a topic
See this post for detailed steps on how to create a new topic.
Step 2: Authoring in Flare
After getting familiar with the tool, it's time to do actual work. In this post, I will walk you through all aspects of authoring. The Step 2 will cover the following topics in details:
Applying paragraph styles
Create ordered list
Create an unordered list
Insert images
Create tables
Step 3: Generating output
Madcap flare is an authoring and publishing tool. In step 2, we have covered the authoring part and now, it is time to publish the output. This post will look into all the corners of designing and publishing output. The final step includes the following topics:
Creating a table of content
Adding a new target
Understanding Page layouts
Master Pages
Skins
Creating and Modifying styles